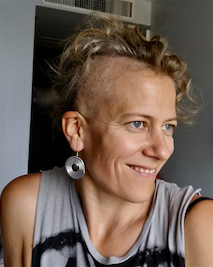 Since 2005 Anna Konjetzky creates dance performances and dance installations in which choreographic thinking is a practice of reflection and transformation and is imbedded in a socio-political context, which can be found not just in the topic and aesthetics she works with but also in the settings and formats she creates for her choreographies, her artistic research and in the facilitation of exchange platforms, collaborative researches, shared trainings….
Anna Konjetzky's works happen physically, aesthetically and politically within a queer-feminist discourse – she sees her work always as a proposition for a dialogue.
Her work has been shown for example at Spielart, Dance, Tanzwerkstatt Munich, Cofestival Ljubljana, Tanztage Potsdam, Grand théâtre national Luxembouerg, Festival Danse Balsa Marni Bruxelles, Sommerszene Salzburg,Tempo festival Rio di Janeiro… in Krakow, Warsaw, Nürnberg, Kampala, Nairobi, Hanoi, Istanbul, Gent, Shanghai, Brazil, South Africa…
She also creates for established dance companies such as Staatstheater Saarbrücken or Staatstheater Braunschweig.
She teaches regularly at several universities, and creates pieces with the students: for example MDT dance university Amsterdam, ZZT cologne, Sead Salzburg, Beaux-arts Bruxelles.
She received several prizes and scholarships, including her work for youth, 'running' which was one of the three finalists for German Theatre Prize FAUST 2018 and the dance-scholarship of the city of Munich in 2011.
In 2009 she won the competition 'operare' of the Contemporary Opera Berlin, during the festival euro-scene Leipzig 2009, 2014 she received the "Förderpreis Tanz" from the city of Munich.
Her dance-installation "Abdrücke" was invited in 2012 to the Tanzplattform Germany where 15 of the top productions from Germany are shown every two years.
She is third time recipient of three-year funding from the city of Munich, producing regularly new works and researching as the company Anna Konjetzky & Co and conducting three year research project Nomadic Academy (https://nomadic-ak.com) through the support of TANZPAKT Stadt-Land-Bund.
www.annakonjetzky.com