playground- a space for physical thinking, choreographic sketches and artistic research
LABOR ATELIERS, Studio 3 – Dachauerstr. 112d
---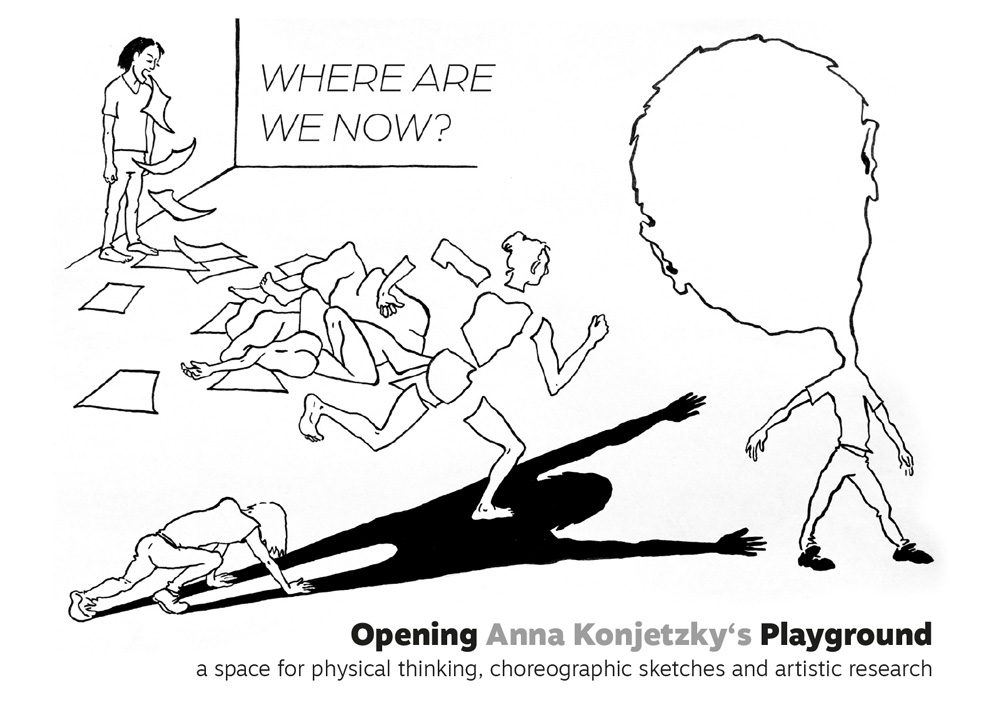 ---
Performatives Skizzenbuch
At irregular intervals, Anna Konjetzky & co. present choreographic sketches – preliminary work and intermediate stages of productions in progress, independent miniatures and new approaches. A public bodily reflection without the pressure of the performance, a possibility to open oneself to the experiment, the utopia, the unprotected and to discuss with the audience afterwards. With free admission, the format is an opportunity for the public to gain insight into the choreographic process, into artistic questions, into body work.
3. + 4. August 2020 // 18–20h
In the "lockdown-sketches" Anna Konjetzky, Sahra Huby, and Quindell Orton show what they have been working on as an 'infection community' in the last months. In the centre of attention are Sahra Huby's drawings, but also a physical confrontation – Corona-suitable at a distance – will be seen.
Choreography: Anna Konjetzky // Dance: Sahra Huby, Quindell Orton // Drawings: Sahra Huby

Please have a look at our hygiene rules!
Support: Take-Care-Programm des Fonds Darstellende Künste, Kulturreferat der Landeshauptstadt München
19.9.2019 //19h
Opening: dance-performance, choreographed by Anna Konjetzky, danced by Viviana Defazio, Sahra Huby, Quindell Orton, Riccardo De Simone with music by Laura Konjetzky and video by Timm Burkhard. and food, drinks and talks.
Training für TänzerInnen
In this training we propose to share our approach to dance, moving between different physical qualities (the compact body, the segmented body and the fluid body), and to explore tasks and exercise to activate our brain and imagination in relation to our body.
training für alle
The physical training for the future is a training open to everybody who wants to activate and experience
his body and movements, but also his imagination. In the training we will propose a series of exercises and approaches using our body as a source of knowledge, to train our ability to think further, and to develop
dreams and ideas.
windows
With he flexible format Widows PLAYGROUND opens up not only to the public, but also to thought-provoking impulses and positions from outside in discussions, talks, lectures, concerts, exhibitions, film evenings, readings. The focus here is on joint reflection and exchange at eye level in an environment that overcomes inhibitions and allows for something different and unknown.